How anti-Semitic Soviet propaganda informs contemporary left anti-Zionism
The five commandments of not falling for fake news and malicious spins
The Cradle of "Fake News" by Daniel Seaman, Mida, May 22, 2018
The epidemic of fake news started here, with the media failure to uphold professional standards of journalism in covering the conflict, as reporting of events last week in Gaza proved.
Stop demonizing Israel for defending itself by Ron Dermer, The Washington Post, May 18, 2018
Falling for Hamas's Split-Screen Fallacy by Matti Friedman, The New York Times, May 16, 2018
If the most effective weapon in a military campaign is pictures of civilian casualties, Hamas seems to have concluded, there's no need for a campaign at all. All you need to do is get people killed on camera.
Questions the Press Hasn't Asked about Violence in Gaza by Noah Rothman, Commentary, May 15, 2018
Video: Is Israel treated differently by the foreign press? The question of group think & 'Fake News' (7'23"), Tom Gross interviewed on i24 News, January 25, 2018
The Mainstream Media's Misdirection on Jerusalem by Evelyn Gordon, Commentary, December 13, 2017
Audio: Hunter Stuart Interview (31'58") by HonestReporting, July 30, 2017
Video: Media, Murder and Israel (1'58"), HonestReporting, June 18, 2017
Why Believing Atrocity Stories About Israel Is Stupid, Even When They're on CNN. by Liel Leibovitz, Tablet, June 14, 2017
How a pro-Palestinian American reporter changed his views on Israel and the conflict by Hunter Stuart, The Jerusalem Post, February 15, 2017
A year working as a journalist in Israel and the Palestinian territories made Hunter Stuart rethink his positions on the conflict.
At the New York Times, Special Words Reserved for Certain Territories by Gilead Ini, The Tower Issue #46, January 2017
The newspaper of record's guidelines ought to be carefully examined when it comes to Israeli-Palestinian issues.
Video: Mosul, CNN, ISIS an Israel (1'58"), HonestReporting, October 31, 2016
Sorry, 'New York Times,' But Israel's Press Is Doing Just Fine by Liel Leibovitz, Tablet, August 1, 2016
Another day, another ridiculous opinion piece in the paper of record
Video series: Eight Categories of Media Bias by HonestReporting: #1 Misleading Terminology (6'19"), April 2, 2016; #2 Imbalanced Reporting (4'43"), May 1, 2016; #3 Opinions Disguised as News (6'48"), June 2, 2016; #4 Missing Context (8'43"), June 30, 2016; #5: Selective Omission (8'21"), July 31, 2016; #6: True Facts, False Conclusions (5'26"), August 29, 2016; #7: Distortion of Facts (6'40"), October 13, 2016; #8: Lack of Transparency (9'24"), December 27, 2016
Should There Be Different Rules for Jews and Muslims at Public Pools? by Yair Rosenberg, Tablet, June 2, 2016
The New York Times opposes women-only swimming hours for Orthodox Jews, but the paper has been silent on the same accommodations for Muslim women
How Does The Media Cover Israel? by Gary Rosenblatt, The Jewish Week, April 6, 2016: "Painstakingly and controversially, based on a two-day conference on news coverage of the Jewish state."
The New York Times Wrote About Computer Hackers Charged by the US and Israel. Differently. FirstOneThrough, March 27, 2016
Review of Media Headlines on Palestinian Arab Terror Spree, FirstOneThrough, March 9, 2016
The media is twisting the knife into Israel over the 'lone wolf intifada' by Eylon Aslan-Levy, The Telegraph, February 23, 2016
How is Israel supposed to trust the international media when it keeps reporting Palestinian terrorists as if they were innocent victims?
Video: It Really Is Bias: Comparing Anti-Israel Headlines (2'14"), Honest Reporting, February 16, 2016
Foreign Ministry slams CBS' 'chutzpah' for shocking headline by Nitsan Keidar, Arutz Sheva, February 3, 2016
Western Media's Ignorance and Bias by Khaled Abu Toameh, Gatestone Institute, January 21, 2016
Media 101: Reading Between the Lines (video, 30'32", and lesson plans) by Step Up for Israel, January 2016
The Hateful Eight Years by Liel Leibovitz, Tablet, January 6, 2016
Frontline's documentary about Bibi was strange and surreal, just like the foreign policy questions with which it grappled
Media: Palestinian Terror and Israeli Responses Are Morally Equivalent, HonestReporting.com, December 16, 2015
Reuters: "Palestinian Dies in Ramming Attack," HonestReporting.com, November 29, 2015
How The New York Times whitewashes Palestinian terror by Gilead Ini, The New York Post, November 23, 2015
New York Times: No Israeli Victims of Palestinian Terrorism by Phyllis Chesler, FrontPageMag.com, October 7, 2015
Why does the left care more about Islamophobia than anti-Semitism? by Brendan O'Neill, The Spectator, September 9, 2015
Things the Media Won't Tell You About Israel by Evelyn Gordon, Commentary, July 26, 2015
After Israeli video mocks journalists, reporters prove its premise by Gilead Ini, The Times of Israel, June 18, 2015 (see also Israeli Foreign Ministry Video: Doth the Media Protest Too Much?, HonestReporting.com, June 16, 2015 and the original video, Open your eyes about Gaza, 0'49")
[youtube]https://www.youtube.com/watch?v=YP8Wrtw7gzY[/youtube]
The Palestinians No One Talks About by Khaled Abu Toameh, Gatestone Institute, April 29, 2015
How Israel Can Fight Hostile Media by Manfred Gerstenfeld, Arutz Sheva Israel National News, February 20, 2015
Israel-Hostile Associated Press Attacks Again by Richard Behar, IsraellyCool.com, February 14, 2015
The ideological roots of media bias against Israel, Matti Friedman speaking at the BICOM annual dinner, January 26, 2015 (see also video, Matti Friedman on Media Bias Against Israel (5'35"), CNN's Reliable Sources, August 31, 2014)
West's anti-Israel propaganda encourages terror by Ben-Dror Yemini, Ynetnews.com, January 13, 2015
The jihad's brainwashing machines are not alone; they are backed by the lies against Israel in the media and in the academia
Slide Presentation: Write Letters to the Editor Like an Action Hero!, HonestReporting.com, December 7, 2014
What the Media Gets Wrong About Israel by Matti Friedman, The Atlantic, November 30, 2014
The news tells us less about Israel than about the people writing the news, a former AP reporter says.
The Conflict and the Coverage by Margaret Sullivan, New York Times, November 22, 2014
New York Times Opinion Bias by the Numbers, Committee for Accuracy in Middle East Reporting in America (CAMERA), November 10, 2014
Why the Gaza War Looked Different on Israeli TV Than It Did on CNN by Yonit Levi and Udi Segal, Tablet, October 7, 2014
During the 50 days of the war in Gaza, Israelis, and the rest of the world were watching two completely different wars. In Israel, the country was under attack and it was all happening on live television: The camera leaped between different cities being targeted—showing the rocket's trajectory from the Gazan border, the subsequent sirens, and civilians taking shelter in Israel and, often, the rocket's interception by the Iron Dome anti-missile system several minutes later—moments of deep anxiety, followed by relief, over and over, throughout the day. [….]The world showed the war in Gaza, and its effect on Gazans, while on Israeli television Gaza was a sidebar. Thus, while the world castigated Israel for using excessive force, on Israeli television the prime minister was upbraided for not doing enough,
Slide Presentation: Top Five Media Fails, Gaza Conflict Edition, Honest Reporting, September 16, 2014
Israel's Predetermined Guilt and the Irrelevant Left by Seth Mandel, Commentary, September 11, 2014
An Insider's Guide to the Most Important Story on Earth by Matti Friedman, Tablet, August 26, 2014: A former AP correspondent explains how and why reporters get Israel so wrong, and why it matters (see also rebuttal from former AP bureau chief, and Friedman's follow-up response, and Matti Friedman's interview on CNN's "Reliable Sources"):
The lasting importance of this summer's war, I believe, doesn't lie in the war itself. It lies instead in the way the war has been described and responded to abroad, and the way this has laid bare the resurgence of an old, twisted pattern of thought and its migration from the margins to the mainstream of Western discourse—namely, a hostile obsession with Jews. The key to understanding this resurgence is not to be found among jihadi webmasters, basement conspiracy theorists, or radical activists. It is instead to be found first among the educated and respectable people who populate the international news industry; decent people, many of them, and some of them my former colleagues.
The Media Intifada: Bad Math, Ugly Truths About New York Times in Israel-Hamas War by Richard Behar, Forbes, August 21, 2014
Hamas cheerleaders by Eytan Gilboa, Times of Israel, August 14, 2014
Western media coverage of Operation Protective Edge has been deeply biased against Israel
Hamas Lies. And the media believed it by Oren Kessler, US News & World Report, August 12, 2014
Reporters Have Finally Found Hamas. What Took So Long? by Oren Kessler, The New Republic, August 11, 2014 (see also Foreign Press Association statement, August 11)
What you need to know and aren't being told about Hamas by Joseph S. Spoerl, New Hampshire Union Leader, August 12, 2014
The Media's Role in Hamas' War Strategy by Richard Landes, The American Interest, August 5, 2014
Hamas' PR strategy can only work if international news media follows the script, whether willingly or under coercion.
Why Everything Reported from Gaza is Crazy Twisted by Mark Lavie, The Tower Issue 17, August 2014
The images coming out of the Gaza Strip are heart-wrenching. They are also part of a deliberate and sophisticated distortion machine.
Israel, Gaza, War & Data by Gilad Lotan, Medium, August 4, 2014 (see also later correction, These charts show how social media makes the Israel-Palestine debate worse by Zack Beauchamp, Vox.com, August 7, 2014): "Social networks and the art of personalizing propaganda"
How Stupid Can You Get? Rethinking Israel Is the Way To Find Out by Liel Leibovitz, Tablet, August 1, 2014
A new genre of journalism brings up the good, the bad, and the ugly of liberal soul-searching
Fear and trembling: Western media and Hamas by Daniel Schwammenthal, The Commentator, August 1, 2014
We are all aware of the wilful blindness of Western media when reporting on Hamas in Gaza. Though it's no excuse, what may not be so clear is that many of the journalists are also terrified of telling the truth
The images missing from the war with Hamas by Uriel Heilman, The Times of Israel, August 1, 2014 (see also NYT on why it hasn't shown photos of Hamas fighters: We don't have any by Uriel Heilman, JTA, July 31, 2014)
In cooperating with the terrorist organization's media blackout of its fighters, the international press is only telling half the story
Forty questions for the international media in Gaza by David Bernstein, Washington Post, July 31, 2014
How the Media Is Helping Hamas by Bassam Tawil, Gatestone Institute, July 27, 2014
A Thank You Letter From Hamas to the Media by Noah Beck, FrontPageMag.com, July 25, 2014
When Journalists Lose Their Moral Compass by Gary Rosenblatt, The Jewish Week, July 23, 2014
Twitter Is Changing How the Media Covers the Israeli-Palestinian Conflict by Joshua Keating, Slate, July 21, 2014
All The News Hamas Sees Fit to Print by Noah Pollak, The Weekly Standard, July 20, 2014
Something important is missing from the New York Times' coverage of the war in Gaza: photographs of terrorist attacks on Israel, and pictures of Hamas fighters, tunnels, weaponry, and use of human shields. It appears the Times is silently but happily complying with a Hamas demand that the only pictures from Gaza are of civilians and never of fighters.
New York Times' Parallels Are Forced, And False by Gary Rosenblatt, The Jewish Week, July 16, 2014
Media death count encourages Hamas to use human shields by Alan Dershowitz, Jerusalem Post, July 15, 2014
Israel-Gaza conflict: Social media becomes the latest battleground in Middle East aggression – but beware of propaganda and misinformation by Ian Burrell , The Independent, July 14, 2014
Are #GazaUnderAttack images accurate? BBC News, July 8, 2014
Some of the pictures of violence circulated on the #GazaUnderAttack thread have been found to be recycled images from as long ago as 2007
How a single settlement apartment can be counted eight times by the media by Elder of Ziyon, May 20, 2014
How The New York Times Demonizes the Israeli People by Tamar Sternthal, The Algemeiner, April 2, 2014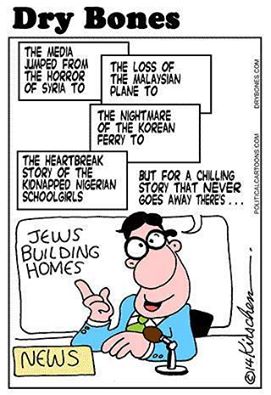 Why Liberals Must Repudiate the BDS Movement by Howard Wohl, The Tower, March 2014
In-Depth Analysis: The New York Times, Washington Post & LA Times by Yarden Frankl, Honest Reporting, March 26, 2014
Another Performance by The Times Trio by Jerold Auerbach, The Algemeiner, February 2, 2014
Israel's media at war by Mazal Mualem, Al-Monitor Israel Pulse, January 16, 2014
The New York Times: Telling Readers How to Think About Israel by Ricki Hollander, Times of Israel, October 28, 2013
Hitler understood propaganda, so do the Palestinians by Michael Curtis, The Commentator, September 26, 2013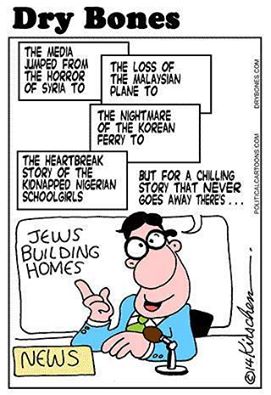 "Faking news has become a Palestinian cottage industry. The most diabolic aspect of Palestinian propaganda is the use of children as stage props. Much Western media is happy to play ball."
Manufacturing and Exploiting Compassion: Abuse of the Media by Palestinian Propaganda by Philippe Assouline, Jerusalem Center for Public Affairs, Jerusalem Viewpoints No. 597, September 9, 2013
Another Photo of Syrian Massacre Falsely Recycled as Gaza Tragedy by Anav Silverman, Algemeiner.com, November 18, 2012
Richard Landes [Analyzes] BBC Tim Sebastien's tough interview with al Zahar, IsraDocuMentalist, August 3, 2013
The Media's "Take" on Negotiations by Richard Landes, The Augean Stables, July 31, 2013: "How Palestinian Cogwar has Checkmated Israel in Western Public Opinion"
Muhammad Al-Dura: The boy who wasn't really killed by Ben Caspit, Jerusalem Post, May 12, 2013 [see also Israel Was Right to Publish Al-Durrah Report by Ben Caspit, Al-M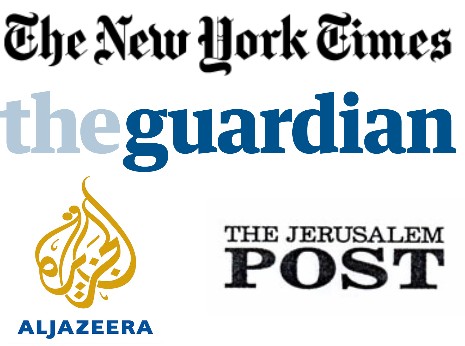 onitor, May 21, 2013, and lots more at The Al Durah Project]
From al Durah to Badawi: Lethal journalism and Palestinian Propaganda's Manufacturing of Consent by Philippe Assouline, Huffington Post, March 5, 2013
Al-Dura and the tragic legacy of lethal journalism by Richard Landes, The Times of Israel, January 14, 2013
Indicting Israel: New York Times Coverage of the Palestinian-Israeli Conflict, Committee for Accuracy in Middle East Reporting in America, December 5, 2012
Falling for Hamas's media manipulation by Michael Oren, Washington Post, November 29, 2012
The Secret to Iranian Drone Technology? Just Add Photoshop by Alexander Abad-Santo, The Atlantic Wire, November 28, 2012
Video: Photojournalism Behind the Scenes (8'35") by Ruben Salvadori, November 2012 (Italian with English Subtitles)
Video: Gaza Photo Fraud (2'47"), Aish, November 22, 2012
The New York Times' Embattled Integrity by Sarit Katz, Committee for Accuracy in Middle East Reporting in America (CAMERA), July 27, 2012
How media condition people to be anti-Israel by Steve Apfel, Times of Israel, June 11, 2012
Slide presentation: Six Secrets of Media Objectivity, Honest Reporting, May 2012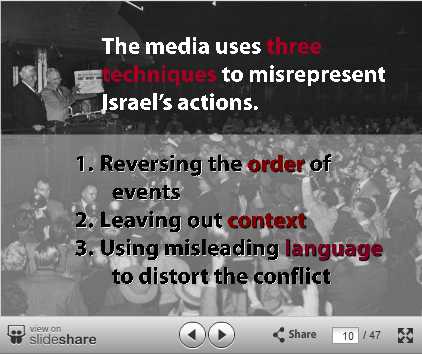 Defending Israel Against Claims
of Excessive Force, Honest Reporting,
October 2011 (slide show)
Video: Simon Plosker, Managing Editor of HonestReporting, Interviewed About Media Bias and Israel's Demonization, Revelation TV [U.K.], March 23, 2012
Lies Propagated out of Ignorance by Evelyn Gordon, Commentary, February 15, 2012
Viral photo of abusive Israeli soldier called a fake, Los Angeles Times, February 2, 2012
The Muhammad al-Dura Hoax and Other Myths Revived by Nidra Poller, Middle East Quarterly, Fall 2011
The [New York] Times' Anti-Israel Smear Campaign by Evelyn Gordon, Commentary, November 3, 2011
EXPOSED: Photographer Reveals Market, Not Truth, Behind Conflict Images by Simon Plosker, Honest Reporting, October 10, 2011
New York Times Israel Op-ed Index for September 2011 by Daniel Goldstein, The Global Research in International Affairs (GLORIA) Center, October 3, 2011
BBC Ethics Unveiled: Lies About Jerusalem, Lies About Guidelines by Ricki Hollander and Gilead Ini, Committee for Accuracy in Middle East Reporting in America (CAMERA), March 31, 2011 [video]
Much Mass Media Coverage of Israel-Palestinian Issues Is Propaganda, Not Journalism by Barry Rubin, The Rubin Report, March 20, 2011
B'Tselem Photographer Stages Scene by Yishai Goldflam and Tamar Sternthal, Committee for Accuracy in Middle East Reporting in America (CAMERA), March 2, 2011 (updated)
Time Magazine Takes Israel Hatred to a New Level by Alana Goodman, Commentary, January 11, 2011
[youtube]https://www.youtube.com/watch?v=29eoFoxJZ-U[/youtube]
Shattered Lens: Photo Bias Exposed in the Wire Services, Honest Reporting, December 9, 2010
Video: Philippe Karsenty: The al Dura Hoax (1:28'32"), Presentation at Children of Jewish Holocaust Survivors,  November 13, 2010
My Battle for the Truth Against the French Establishment, a briefing by Philippe Karsenty, Middle East Forum, October 12, 2010
Acceptable in Polite Society by Daniel Gordis, Commentary blog, September 7, 2010
A Wonderful Graphic Example of Ridiculous Media Bias by Barry Rubin, The Rubin Report, August 17, 2010
Today's Example of Ridiculous Media Bias Against Israel by Barry Rubin, The Rubin Report, August 3, 2010
The Al-Dura Hoax: Truth, Finally, May Be Coming by Chris Dreyfus, Pajamas Media, July 13, 2010
And You Thought Vuvuzelas Were Annoying, HonestReporting, July 6, 2010 (About staged photo-op, irrelevant photo and misleading caption in the Times of London)
The Privileged Slander: Why the Media Laps Up The Anti-Israel Lying Campaign by Barry Rubin, The Global Research in International Affairs (GLORIA) Center, June 27, 2010
Secret Decoder Ring: Understanding How The New York Times Thinks About Israel by Martin Berman-Gorvine, June 2010
NY Times Defends Obama, Not U.S. Interests; Blames Israel, Not White House or Palestinians for All Problems by Barry Rubin, The Global Research in International Affairs (GLORIA) Center, March 31, 2010
Opposing the digital pogrom by Daniel Seaman, Jerusalem Post, March 4, 2010
A Matter of Trust: One story from Gaza and what it says about the coverage of Israel by J.J. Goldberg, Columbia Journalism Review, May/June 2009
[youtube]https://www.youtube.com/watch?v=STOaCl-cES0[/youtube]
The Story You Aren't Hearing About Israel by Mort Zuckerman, The Huffington Post, April 13, 2009
Israel Losing the Media War: Wonder Why? by Philippe Karsenty, Hudson New York, January 30, 2009 
Gaza vs. Congo: A Tale of Media Double Standards by Eli Bernstein, Pajamas Media, January 17, 2009
Myths and Facts about the Fighting in Gaza by Alex Safian, Committee for Accuracy in Middle East Reporting in America (CAMERA), January 8, 2009
The New York Times: A Year-Long Analysis, Honest Reporting, July 16, 2008
Picture: Iran 'fakes' missile launch after misfire by Chris Smyth, Times Online [UK], July 10, 2008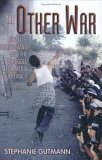 Right of reply: Conspiracy theories and Al-Dura by Richard Landes and Philippe Karsenty, Jerusalem Post, June 11, 2008
Palestinian industry of lies by Danny Seaman, YNetNews.com, May 29, 2008 ("Media manipulation has become strategic Arab weapon against Israel")
A Hoax? by Nidra Poller, Wall Street Journal Europe, May 27, 2008 (about the Al-Dura affair & libel suit)
New York Times 6-month Study, HonestReporting.com, November 21, 2007 (also available: PDF version)
The Israeli-Hezbollah War of 2006: The Media As A Weapon in Asymmetrical Conflict, by Marvin Kalb, Joan Shorenstein Center on the Press, Politics and Public Policy, February 2007 [pdf]