Video: What is the Role of Progressive Zionists in the Social Issues of Our Time? (33'15") An interview with Zioness Amanda Berman, The Jewish Center for Public Affairs, JCPA CRCast, October 18, 2019
The Real Reason The Left Hates Israel by Sharon Goldman, Forward, July 30, 2019
When human rights become acceptable collateral damage by Evelyn Gordon, Jewish News Syndicate, July 3, 2019
Palestinians' rights matter when targeted by Israel, but not when targeted by the Palestinian Authority. And Israeli rights never matter, except when violated by Israel.
Video: Guy Bechor: Progressive Jews Are More Dangerous to Israel Than Iran (9'55"), May 14, 2019
How Dare Chelsea Clinton Defend The Jews? by James Kirchick, Tablet, March 19, 2019
A run-in at NYU reveals the unavoidable truth: The war for the soul of the left will be fought over anti-Semitism.
The Progressive Assault on Israel by Bret Stephens, The New York Times, February 8, 2019
A movement that can detect a racist dog-whistle from miles away is strangely deaf when it comes to some of the barking on its own side of the fence.
Progressives Can't Ignore Jewish Particularism by Ammiel Hirsch, Jewish Week, October 9, 2018
The growing inclination among liberal Jews to de-emphasize Jewish distinctiveness is the gravest threat to the future of liberal Judaism.
Progressives for Israel by Zachary Thacher, Tablet, October 4, 2018
A Sanders supporter makes the progressive's case for Israel
Sorry, Liberals: Anti-Zionism Is Anti-Semitic by Petra Marquardt-Bigman, Forward, August 7, 2018
If American Jewish progressives really seek change… by Daniel Gordis, The Jerusalem Post, July 18, 2018
The US Left is the greatest existential threat facing Israel Avi Perry, Arutz Sheva/Israel National News, July 1, 2018
Can you imagine a denial of financial aid, a denial of military support, or even a pro-BDS agenda exercised by a future US Democrat-controlled government?
The Loneliness Of The Liberal Zionist by Jarrod Tanny, The Forward, June 5, 2018
How Jewish Progressives Can Stand Up Against Left Anti-Semitism by Carly Pildis, Tablet, May 8, 2018
We must fight progressive anti-Semitism from the inside, before it destroys the social justice movements we helped to build—and alters the core values and political attachments of American Jewry
Natalie Portman and the Crisis of Liberal Zionism by Eric Levitz, New York Magazine, April 26, 2018
Video: Former Governor of Michigan Jennifer Granholm shares her connection to Israel (7'24"), AIPAC, March 4, 2018
Anti-Semitism Is Creeping Into Progressivism by Jonathan A. Greenblatt, Time, June 30, 2017
So Wrong by Nevet Basker, The Times of Israel, June 28, 2017
How a Changing American Liberalism Is Pulling American Jews away From Israel by Evelyn Gordon, Mosaic, May 18, 2017
'Left' behind – Israel as a progressive cause by Daniel Elbaum, The Times of Israel, May 17, 2017
Why DOES The Left Hate Israel? (4'06"), Blue Collar Logic, March 30, 2018
Does Feminism Have Room for Zionists? by Emily Shire, The New York Times, March 7, 2017
For my part, I am troubled by the portion of the International Women's Strike platform that calls for a "decolonization of Palestine" as part of "the beating heart of this new feminist movement.
A Liberal Zionism for the Trump Era by Michael J. Koplow, Israel Policy Forum, Koplow Column, March 6, 2017
Never Again/ Silence = Death by Rachel Wahba, The Times of Israel, January 16, 2017
Why Liberalism vs. Zionism Is a False Choice by Elliot Cosgrove, The Jewish Week, January 11, 2017
In word and in deed, liberal Zionists must flatly reject the contention that it is somehow a contradiction to be both liberal and a Zionist.
On settlements and elsewhere, the Jewish left reaps what it sows by Rabbi Jonathan Greenberg, Jewish News Service, November 4, 2016
Black Lives Matter's Anti-Semitic Bedfellows by Gary C. Gambill, The National Interest, September 13, 2016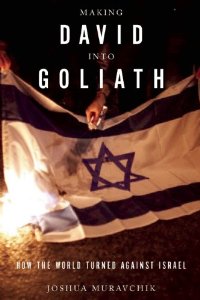 Are Jews who refuse to renounce Israel being excluded from "progressive" groups? by Alan M. Dershowitz, Gatestone Institute, August 24, 2016
Progressive Silence Over Islamic Extremism is Homophobic by Paul Miller, Observer, June 14, 2016
When Your Liberal Values Need Not Apply by Leora Eisenberg, The Times of Israel, May 26, 2016
Why Is the Left Silent About Gaza Tunnels? by Jay Michaelson, The Forward, May 13, 2016
When the left fails to condemn Palestinian terrorism, its condemnations of Israeli actions — settlements, checkpoints, wars of attrition — ring hollow.
Why the Left Hates Jews by Kevin D. Williamson, National Review, April 29, 2016
Israel and the Jewish diaspora make progressive pieties look silly.
The Left's hatred of Jews chills me to the bone by Stephen Pollard, The Telegraph, April 28, 2016
Is liberal Zionism dead on North American college campuses? by Andrew Silow-Carroll, The Times of Israel, April 6, 2016:
In an increasingly polarized pro- and anti-Israel discussion, where is the missing left?
Friend or Foe: How to Tell Who Israel's Real Enemies Are by Lex, Israellycool.com, March 16, 2016
I Was the Pro-Israel Poster Boy at Brandeis — Here's Why I Quit by Gabriel Goldstein, The Forward, March 14, 2016
The Regressive Left, Divest This!, March 13, 2016
Liberal Jews Without Liberal Organizations by Michael J. Koplow, Israel Policy Forum, January 21, 2016
The Progressive Case For Israel by Binyamin Arazi, Israelicool.com, January 4, 2016
Why does the left care more about Islamophobia than anti-Semitism? by Brendan O'Neill, The Spectator, September 9, 2015
I'm Young. I'm Liberal. And Yes, I'm Zionist. by J.E. Reich, The Forward, July 20, 2015
Why are liberals bashing Michael Oren? by David Suissa, Jewish Journal, July 7, 2015
A model for resolving clashes between Jewish and liberal values by Evelyn Gordon, The Jerusalem Post, June 22, 2015
Israel's abortion policy is an all-too-rare example of a compromise that gives both sides something important
A Letter to My Liberal Jewish Friends by Michael Doran, Mosaic, May 28, 2015
I Support Israel…. Because I Am A Liberal by Alexandra Markus, IsraellyCool.com, February 25, 2015
How Much Zionism is Acceptable to the BDS-Lite Movement? by Alexander H. Joffe and Asaf Romirowsky, The American Interest, January 7, 2015
My Jewish Feminist Problem by Phyllis Chesler, Tablet, December 16, 2014: "Why my sisters can't think straight about Israel"
Zionism, The Moral Struggle by Ryan Bellerose, Israellycool, December 15, 2014
The Left and the Jews by Alan Johnson, Fathom, Autumn 2015
I'm Done Apologizing for Israel by Rabbi Menachem Creditor, Huffington Post, September 21, 2014
Dear Fellow Liberals: I'm Done Apologizing for Israel by Jennifer Moses, Time, September 18, 2014
The peculiar case of liberals criticizing Israel by Mitchell Bard, Jerusalem Post, September 3, 2014
Israeli Liberals' Advice to Diaspora Jewish Counterparts: Grow Up by Evelyn Gordon, Commentary, August 28, 2014
Stop the whining, liberal Zionists! by Andrew Silow-Carroll, The Times of Israel, August 27, 2014
How liberal critics failed Israel by David Suissa, Jewish Journal, August 14, 2014
An Alternative Model for Pro-Israel Liberals by Evelyn Gordon, Commentary, March 28, 2014
Why Liberals Must Repudiate the BDS Movement by Howard Wohl, The Tower, March 2014
Like the far-Leftists who failed to recognize the evils of the Soviet Union, many Americans today—including some of its most influential editors—can't see what's wrong with anti-Israel activism. And liberalism itself is in now in danger.
Why The Left Should Stop Carping and Love the Jewish State, Again by Joshua Muravchik, The Tower, February 2014
Mystery Solved: Why Are Some Liberals Claiming Israel is At Fault For Their Lack of Support? by Barry Rubin, Rubin Reports, January 13, 2013
Why I am a Zionist by Tom Doran, Jewish Journal, January 9, 2013
Why My Fellow Liberals Should Support Israel in Her Conflict with Hamas by Jonathan Miller, Huffington Post, November 20, 2012
A Dose of Nuance: Peter Beinart's mis-identity crisis by Daniel Gordis, Jerusalem Post, April 11, 2012
Peter Beinart's Offense Against Liberalism by Rabbi Ammiel Hirsch, Huffington Post, March 30, 2012 (also video)
The Liberal Case for Israel by Jonathan Miller, Huffington Post, November 28, 2011
Engaging With Israel: Challenges and Opportunities for American Jews by Rabbi Ammiel Hirsch, March 30, 2011: A discussion with Peter Beinart at CCAR Convention, New Orleans
[youtube]https://www.youtube.com/watch?v=UN-JJreC4JQ[/youtube]

Bret Stephens: "The Liberal Case for Israel" Shalom TV, February 2, 2010
Progressives Should Support Israel by Steve Sheffey, Huffington Post, March 30, 2011
8 Reasons Leftists Should be Pro-Israel by Alan Krinsky, Huffington Post, July 20, 2010
Israel: A Normal Country by Jose Maria Aznar, David Trimble, John R. Bolton, Alejandro Toledo, Marcello Pera, Andrew Roberts, Fiamma Nirenstein, George Weigel, Robert F. Agostinelli and Carlos Bustelo, Wall Street Journal, July 8, 2010
The Liberal Betrayal of Israel by Daniel Greenfield, Sultan Knish, May 30, 2010
Israel: An Apartheid State? by maozisrael, July 28, 2010
"How Can You Defend Israel?" by David Harris, Huffington Post, December 27, 2010