The 'Slow Death' of Palestinians in Lebanon by Khaled Abu Toameh, Gatestone Institute, July 19, 2019
Ten Takeaways from Hassan Nasrallah's Latest Rant by Seth Frantzman, The Jerusalem Post, July 14, 2019
US has Given Lebanese Armed Forces a Pass with Hezbollah — Conditioning Aid is Necessary by Lt. Gen. Richard Natonski, USMC (ret.) and Lt. Gen. Thomas Trask, USAF (ret.), The Hill, July 5, 2019
Arabs' Nightmare: Absorbing Palestinians by Khaled Abu Toameh, Gatestone Institute, June 12, 2019
Video: IDF Lt. Col. Jonathan Conricus Inside a Hezbollah Terror Tunnel (8'34"), The American Israel Public Affairs Committee (AIPAC), June 2019
Why Palestinians are Fleeing Lebanon by Khaled Abu Toameh, Gatestone Institute, April 1, 2019
US should sanction Hezbollah-controlled govts. to counter attack tunnels in Lebanon by Jonathan Ruhe and Harry Hoshovsky, The Hill, March 20, 2019
Hezbollah's Tunnels Offer Sneak Peek At Looming Major Conflict With Israel by Lt. Gen. Kenneth Glueck, USMC (ret.), Lt. Gen. Michael Tucker, USA (ret.) and Lt. Col. Geoffrey Corn, USA (ret.), The Hill, February 25, 2019
Congress Should Be Wary of Funding the Lebanese Armed Forces by John Bednarek & Richard Natonski, RealClearDefense.com, February 18, 2019
UNIFIL Deters EU from Banning Hezbollah by Evelyn Gordon, Commentary, December 13, 2018
An obstacle on the road to peace.
How America Helps Hezbollah by Shoshana Bryen, Jewish News Syndicate,  December 11, 2018
The U.S. government has provided military training and weapons—plus $1.5 billion in aid—to the government of Lebanon since 2006, the end of the war Hezbollah instigated against Israel.
Whoever You Vote For – Hezbollah Wins by Jonathan Spyer, The Jerusalem Post, May 11, 2018
State Department Backs Lebanese Land Grab against Israel by Evelyn Gordon, Commentary, March 2, 2018
The secret backstory of how Obama let Hezbollah off the hook by Josh Meyer, Politico, December 2017
An ambitious U.S. task force targeting Hezbollah's billion-dollar criminal enterprise ran headlong into the White House's desire for a nuclear deal with Iran.
How Washington Can Counter the Rise of Hezbollah by Jonathan Schanzer, Orde Kittrie and Alex Entz, Foreign Affairs, September 29, 2017
US ambassador rebukes head of UN peacekeepers in Lebanon by Jennifer Peltz, Associated Press/Fox News, August 25, 2017
Remarks at a UN Security Council Open Debate on the Middle East, Ambassador Nikki Haley, U.S. Permanent Representative to the United Nations, July 25, 2017
Israel and Hezbollah: The Battle before the Battle by Jonathan Spyer, The Jerusalem Post, July 14, 2017
Prepare for battle: Israel, Hezbollah on the path to war by Matt Brodsky, The Hill, March 27, 2017
Lebanon's Army and Hizbullah Join Ranks by Brig.-Gen. (ret.) Dr. Shimon Shapira, Jerusalem Center for Public Affairs/Institute for Contemporary Affairs, Jerusalem Issue Briefs Vol. 17, No. 6, March 2, 2017
Hizbullah has completed the process of usurping the Lebanese state and its institutions.
Lebanon's Government and Iran's Victory by Shoshana Bryen, American Thinker, November 2, 2016
Lebanon's Hatred of Israel: A Symptom of Dysfunction by Fred Maroun, Gatestone Institute, September 18, 2016
Ten years after last Lebanon war, Israel warns next one will be far worse by William Booth, The Washington Post, July 23, 2016 (see also The Third Lebanon War: The Coming Clash Between Hezbollah and Israel in the Shadow of the Iran Nuclear Deal by Jonathan Schanzer, Tony Badran, and David Daoud, The Foundation for Defense of Democracies, July 2016)
The Palestinians: Refugee Camps or Terrorist Bases? by Khaled Abu Toameh, Gatestone Institute, July 21, 2016
Deterrence is an Elusive Concept by IDF Maj. Gen. (ret.) Yaakov Amidror, Israel Hayom, July 8, 2016 (see also: Reflections on the Second Lebanon War, 10 Years On by Jonathan Spyer, The Jerusalem Post, July 12, 2016)
Missiles Everywhere by Willy Stern, The Weekly Standard, June 20, 2016
The next Israeli-Hezbollah conflict will be awful
Europe: Do the Right Thing on Hezbollah by David Harris, The Times of Israel, April 27, 2016
Video: Palestinian Islamic Jihad Representative: In a Future War, Half the Galilee Will Fall within 72 Hours (0'44"), Al-Jadid/New TV (Lebanon) via Middle East Media Research Institute, MEMRI TV Clip No. 4739, January 19, 2015
Lebanon (and UNRWA) continue treating Pal Syrians like dirt by Elder Of Ziyon, May 6, 2014
Lebanon's new pulse, Al-Monitor Week in Review, April 11, 2014
Don't Be Fooled. Hezbollah Is Bigger and Badder Than Ever by Shai Oseran and Stéphane Cohen, The Tower, Issue 12, March 2014
Iran's Terror Entity in Lebanon by Yaakov Lappin, Gatestone Institute, October 28, 2013
"One out of every ten homes in Lebanon now has a rocket launcher or Hezbollah weapons stored in it, according to Gilad Erdan, Israel's Home Front Defense Minister. Civilian homes are constructed in a way that allows the roof to open up for the firing of a rocket at Israel. Added up, the number of rockets and missiles reached is 200,000."
The Crisis of Syrian Refugees in Lebanon by Omar S. Dahi, Middle East Research and Information Project, September 25, 2013
Video: The Truth About Hezbollah (3'08"), Israel Defense Forces, July 11, 2013
Hezbollah's Plans for Lebanon by Hilal Khashan, Middle East Quarterly, Spring 2013
Israel's Active Defense Doctrine Won't Work Against Hezbollah by Yaakov Lappin, The Jewish Institute for National Security Affairs, December 21, 2012
Palestinian Refugees Languish in Lebanon by David Schenker, Middle East Quarterly, Fall 2012
What It Means to Engage Hezbollah by Omri Ceren, Commentary, July 11, 2011
Hezbollah Dominates Lebanese Government by Samara Greenberg, Jewish Policy Center inSIGHT, June 15, 2011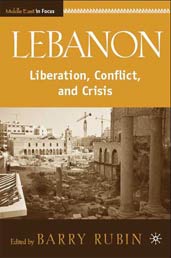 Israel Killed 2,000 Lebanese Civilians Today by Ari Applbaum, The David Project, March 31, 2011
Iran Changes the Balance of Power in Lebanon by Lt. Col. (ret.) Michael Segall, Jerusalem Center for Public Affairs, Jerusalem Issue Briefs Vol. 10, No. 24, January 23, 2011
Justice and Stability in Lebanon by Samara Greenberg, Jewish Policy Center, January 13, 2011
Countdown to a New Lebanon Crisis: Iran Sends a Signal to Obama through Beirut by  Shimon Shapira, Jerusalem Center for Public Affairs, Jerusalem Issue Briefs Vol. 10, No. 22, January 13, 2011
Iran Steps Up Arming Hizbullah Against Israel by Col. (ret.) Dr. Jacques Neriah, Jerusalem Center for Public Affairs, Jerusalem Issue Briefs Vol. 10, No. 21, January 10, 2011