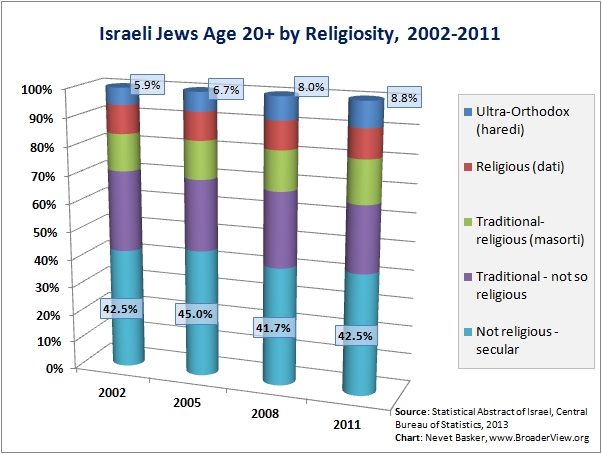 Leap of Faith: Israel's National Religious and the Israeli-Palestinian Conflict, International Crisis Group, Middle East Report N°147, November 21 2013
How Israeli society remained intact by Yossi Klein Halevi, Times of Israel, October 22, 2013
Israel's Next Best Thing? It's Bibi by Ben Caspit, Al-Monitor Israel Pulse, October 22, 2013
Time Favors Israel: The Resilient Jewish State by Efraim Inbar, Middle East Quarterly, Fall 2013
Israel: Jewish and Democratic by Prof. Gil Troy and Martin J. Raffel, Jewish Federations of North America/Israel Action Network, August 2013
Can the Israeli Center Hold?, by Justin Finkelstein, Foreign Policy Research Institute, FPRI E-Notes, August 2013
The Right Moment for Israel's Danny Danon? by Daniel Pipes, The Washington Times, August 5, 2013
I Have No Chief Rabbi by Yossi Klein Halevi, Shalom Hartman Institute, August 4, 2013
Surprise! Israeli "Racism" Is Waning by Evelyn Gordon, Commentary, July 3, 2014
Still Playing by the Rules: The Index of Arab-Jewish Relations in Israel 2012 by Sammy Smooha, The Israel Democracy Institute/University of Haifa, 2013 [pdf] [See also analysis, Poll: Majority of Israeli Arabs Support Another Intifada by Gil Ronen, Israel and Stuff, June 25, 2013]
Time to Change the Israel Conversation by Daniel Gordis, Jerusalem Post, June 21, 2013
In 1762, more than a century before Theodor Herzl launched political Zionism, Jean-Jacques Rousseau, writing in Emile, said, "I shall never believe I have heard the arguments of the Jews until they have a free state, schools and universities, where they can speak and dispute without risk. Only then will we know what they have to say." Today, we have a free state. We have schools and universities. But we're not having the conversation that Rousseau imagined we would.
Even Israel's Far Left Thinks EU-Kerry Approach Is Wrong by Evelyn Gordon, Commentary, June 15, 2013
How to be an optimist in the Middle East by Tal Becker, Jerusalem Post, May 30, 2013
Diversity Makes Life Rich: An Ordinary Day in Israel by Diana Bletter, Huffington Post, May 20, 2013
The Courage to Serve: A Chareidi Woman in the IDF by Fayga Marks, Jewish Action, March 4, 2013
Israel's Arabs: Deprived or Radicalized? by Efraim Karsh, Israel Affairs, January 2013
Stand Tall: We're Winning, Not Losing by Alon Pinkas, Israel Policy Forum, August 30, 2012
Israel must punish rabbis who preach hatred by Anat Hoffman, JTA, August 27, 2012
The Fading Left and Israel's Flourishing Democracy by Shmuel Sandler and Efraim Inbar, BESA Center Perspectives Paper, August 16, 2012
Healing Haredi work ethics by David M. Weinberg, Israel Hayom, August 12, 2012
The New York Times: Misreading Israeli Democracy by Daniel Gordis, Haaretz, July 26, 2012
A Dose of Nuance: Our hope (for what?) is not yet lost by Daniel Gordis, Jerusalem Post, May 17, 2012
Israel's Arabs, Living a Paradox by Daniel Pipes, The Washington Times, March 22, 2012
No, Israel Isn't Turning into an Iran-Style Theocracy by Gil Troy, The New Republic, February 2, 2012
Can the Center Hold? Understanding Israel's Pragmatic Majority by Yossi Klein Halevi, Foreign Affairs, January/February 2012
Into the Fray: A nation betrayed? by Martin Sherman, Jerusalem Post, November 18, 2011
The list of the Left's blunders is depressingly lengthy. It has been hopelessly wrong about… well, everything.
Decency Abhors A Vacuum by Daniel Gordis, Jerusalem Post, January 28, 2011
The Opposition We Really Need by Daniel Gordis, Jerusalem Post, January 14, 2011
Israel's Evolving Security Concept by Meron Medzini, The Middle East Review of International Affairs at the Global Research in International Affairs (GLORIA) Center, Interdisciplinary University, MERIA Journal Vol. 14, No. 4, December 2010
The undeniable Jewish state by Jeff Jacoby, Boston Globe, October 17, 2010
Ethiopian Israelis, the right of return, and accusations of racism by Adam Levick, CiF Watch, October 14, 2010
Many countries provide immigration privileges to individuals with ethnic/familial ties to these countries (so-called "leges sanguinis"). As examples: Bulgaria, Belgium, Estonia, Finland, Germany, Greece, Hungary, Iceland, Ireland, Japan, Poland, Romania, S. Korea, Spain, Turkey, and Ukraine, all have citizenship laws based partly or largely on this principle – that is, a Right of Return of sorts for people determined to share a preferred common national trait. Apart from France, "jus sanguinis" still is the preferred means of passing on citizenship in many continental European countries, with benefits of maintaining national unity (while not in any way necessarily denying equal civil rights for minorities within the country who have citizenship, but who don't share such traits). So, in fact, Israel is not at all unique in seeking to maintain a nation unified by a citizenry who share a similar historical memory and a common sense of political & moral destiny.
Israel as the Nation-State of the Jewish People: From the San Remo Conference (1920) to the Netanyahu-Abbas Talks by Joshua Teitelbaum, Jerusalem Center for Public Affairs, Jerusalem Viewpoints No. 579, September-October 2010